See also: Itomori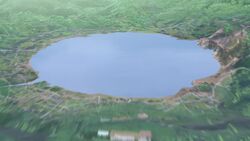 Lake Itomori is a lake in Gifu, Japan. The town of Itomori lies around this lake.
In Kimi no Na wa.
Formation
The lake was created as the result of a fragment from Comet Tiamat crashing into the town 1200 years prior to the events of the film.
Geography
The fragment of the Comet was rich in iron, so it helped fertilize the lake and the surrounding land. The lake was quickly filled by fish after the first impact.
The lake was permanently altered to gourd-shaped when a piece of Comet Tiamat crashed again in 2013 and destroyed the surrounding town, creating a crater 1 km in diameter right next to the original lake.
Real-life location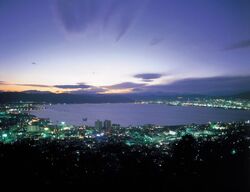 While the lake is fictional, it is based on Lake Suwa, a lake in the Kiso Mountains, in the central region of Nagano Prefecture, Japan.
Its coordinates are 36°02′54″N 138°05′03″E.
Gallery