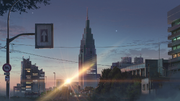 The NTT Docomo Yoyogi Building (NTTドコモ代々木ビル, Enu Tī Tī Dokomo Yoyogi Biru?) is an iconic building of Shibuya, Tokyo, Japan.
It appears in many scenes of Tokyo.
Real-life location
Edit
The NTT Docomo Yoyogi Building was opened in 2000, after 3 years of construction. It is owned by the NTT Docomo group. Despite the building's name, the building is not the head office for the company, whose headquarters are located in the top floors of the Sannō Park Tower. It houses some offices, but is mainly used to house technical equipment (switching equipment, etc.) for the company's cellular telephone service.
Its coordinates are 35°41′3.7″N 139°42′11.7″E.