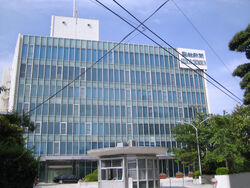 Seikyo Shimbun headquarters is a building located in Shinanomachi, Shinjuku, Tokyo.
Real-life location
Edit
In real world, it is the head office of Seikyo Shimbun, the third largest daily newspaper in Japan.
Its coordinates are 35°40'59.6"N 139°43'20.0"E
The building doesn't have a vital role in the movie, but it appears in the background of some scenes around Tachibana residence.