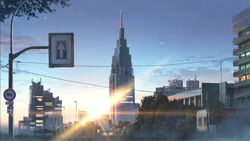 Tokyo is the capital city of Japan. Taki Tachibana, Tsukasa Fujii, Shinta Takagi and Miki Okudera reside here throughout the film.
The city is large, populous, and vibrant, often juxtaposing against the relatively calm and quiet landscape of Itomori. Many landmarks from the real-life Tokyo are featured in the film, such as: the NTT Docomo Yoyogi Building, the Pedestrian Bridge at Shinanomachi Station, Suga Shrine, and the Shinjuku Underpass. Taki and Miss Okudera also visit the National Art Center for their date.
Tokyo is also the place where Mitsuha Miyamizu wished to live as a "handsome Tokyo boy" in her next life.
Following the destruction of Itomori by Comet Tiamat, many of Itomori's former residents migrate to Tokyo, including: Mitsuha, Yotsuha, Sayaka, Tessie, and Ms. Yukino.