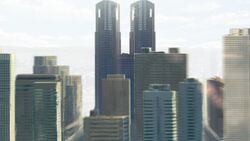 Tokyo Metropolitan Government Building is a building in Nishishinjuku, Shinjuku, Tokyo.
The building features briefly in the opening, as the camera zooms from Taki Tachibana's location through it to Mitsuha Miyamizu's house.
Real-life location
This building houses the headquarters of the Tokyo Metropolitan Government, which governs the 23 wards of Tokyo, as well as the cities, towns and villages that constitute the whole Tokyo Metropolis.
Its coordinates are 35°41′23″N 139°41′32″E.
Gallery
Trivia
A straight line drawn from the real-life location of Taki's rooftop to Lake Suwa - the real-life location of Lake Itomori authentically goes right through the Tokyo Metropolitan Government Building. However, the angle of the building seen in the opening is different from how it is actually seen in the real life and from another scene in the movie itself. It is likely that the opening scene was deliberately changed for the sake of visual balance.