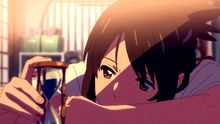 Just A 14 yr old normal Teen.
A teen that likes Japanese culture, anime And reading the wikis/
I'm from Indonesia, Jakarta.
Novice Wiki Editor.
My very favorite anime is Kimi No Na Wa 君の名は.
Favorite Anime Character Taki and Mitsuha.
Also my Favorite anime Ships TakixMitusha.
Going offline until 11 june
My other Info down here.
My feelings to Kimi No Na Wa
I watched Kimi No Na Wa Like 5 times now but I still hyped to watch it again and over again, Also somewhat Kimi No Na Wa changed my lifestyle, Now I really like Japanese culture and i become a clean freak because of Japanese lifestyle, Like Taki room, I also have some Kimi no Na Wa Stuff Like Taki armband and Taki Jacket, I think that's all I wanted to say I might update again in the future.
My favorite anime
Kimi No Na Wa .君の名は
One Punch Man
Attack On Titan
Wolf Children
My favorite Japanese Songs
Nandemonaiya .君の名は
Sparkle .君の名は
Yume Torou .君の名は
Zenzense .君の名は
Favorite Japanese Song Lyrics
もう少しだけでいいあと少しだけでいいもう少しだけでいいからもう少しだけでいいあと少しだけでいいもう少しだけくっついていようか
- Nandemonaiya lyrics
last edited on 26/06/2019